The missing link. Using data technology to close the gap in supply chain management
Have you noticed that wherever you are in the world, you can almost always buy a bottle of Coke? Easier to find than some essential medicines, the secret lies in supply chain management. Every. Link. Matters. Yet in the world of global health, product supply chains are fraught with problems. Particularly in low and middle-income countries (LMICs).
From national warehouses to rural health facilities, for a health system to deliver, a global view of the supply chain ecosystem is needed. At Bluesquare, we know that digital information systems are a vital part of this picture. But integrating and analysing the needs to build an accurate overview of supply chain management is not easy. That's why we are channelling 8 years of operational experience to close this gap.
Why are supply chain ecosystems so hard to map in LMICs?
Experts in health data management, Bluesquare have identified three core challenges that hinder the management of supply chain data:
Validation requirements: With the transfer of stock comes the transfer of responsibility – and that means procedural and legal expectations around supply chain management are high. Unlike health data, paper-based signatories and processes are still considered the best way to ensure safe transactions in many settings.
Internet access at the point of care: Internet access remains problematic in many LMICs, particularly when it comes to 'last mile' healthcare delivery. As a result, many facilities cannot use digital data collection tools, and have to self-report stock levels using paper-based forms.
A lack of interoperability: Where digitisation is possible, facility-level tools rarely align with warehouse management and/or broader health management information systems (including DHIS2, the preferred tool of all our in-country partners). This lack of 'interoperability' leaves data sets to exist in silo – making it impossible to build an accurate picture of supply chain ecosystems, or to triangulate logistics data with key health information.
Tackling supply chain data challenges in the field
Despite these challenges, many countries are now looking to digitise paper-based procedure, strengthen and streamline their supply chain management. Proud to be part of this process, in 2019 Bluesquare launched a new partnership with SANRU and Cordaid (supply chain management partners for the Global Fund) in the Democratic Republic of Congo. Working together, we have developed innovative new methods to tackle supply chain data challenges in the field. These include:
The integration of siloed data sets with national health management information systems, in this case DHIS2.
The computation of consistency checks and logistic metrics using our own open-source solution, Hesabu.
Advanced visualization of supply chain data through DHIS2, our new Logistics app and public portal, Dataviz.
Each tool helps closing a critical gap in supply chain data management. And as our partnerships develop we are looking to evolve these solutions even further – focussing particularly on the digitisation and integration of Warehouse Management Systems (WMS).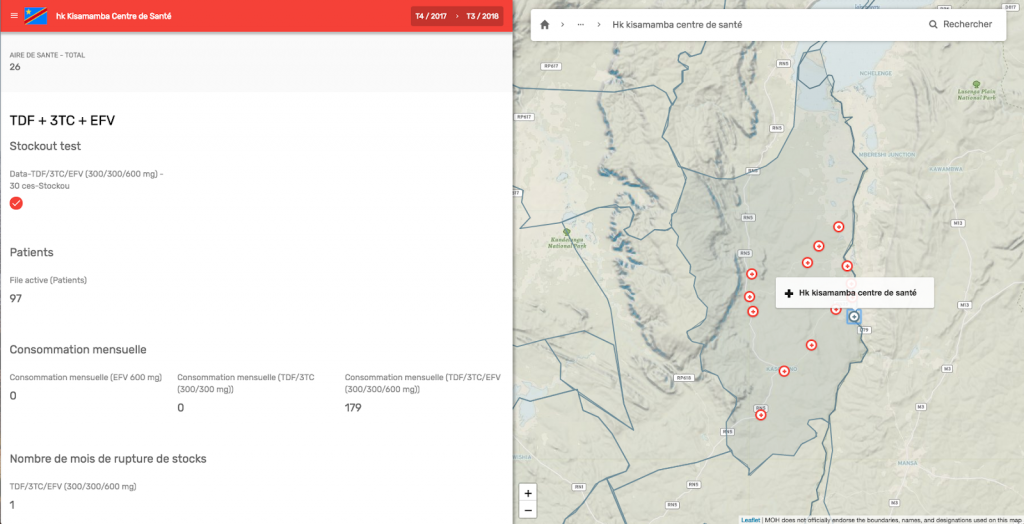 Innovations to integrate warehouse management
In many countries, including the DRC, it is the end user (primary health facilities) that drive the restocking process. Yet as we have seen, high validation requirements and poor internet connectivity make digitisation extremely difficult. This means our partners were reliant on facility-level, paper-based data. This was then input into digital systems at 15 different regional warehouse sites, with (expensive) interoperability tools linking this information to DHIS2.
Bluesquare's new urban direct deliveries programme inverts this process – streamlining supply chains by empowering regional warehouses to take the lead. Within this, the increased use of third party logistics contractors creates new opportunity to collect on-site data. Input using offline functionality, information is uploaded at the nearest point of connectivity (for example, on return to the regional warehouse) through mobile devices. Our new product, IASO, that leverages Kobo (ODK) makes it easy to collect and integrate warehouse data with DHIS2. Beyond this, we are also developing an affordable, standard interoperability layer that links open source Warehouse Management Systems (WMS) to DHIS2. Gone are the days of siloed data sets. Bluesquare helps warehouse managers and supply chain partners with easily configurable packages that handle all their data needs.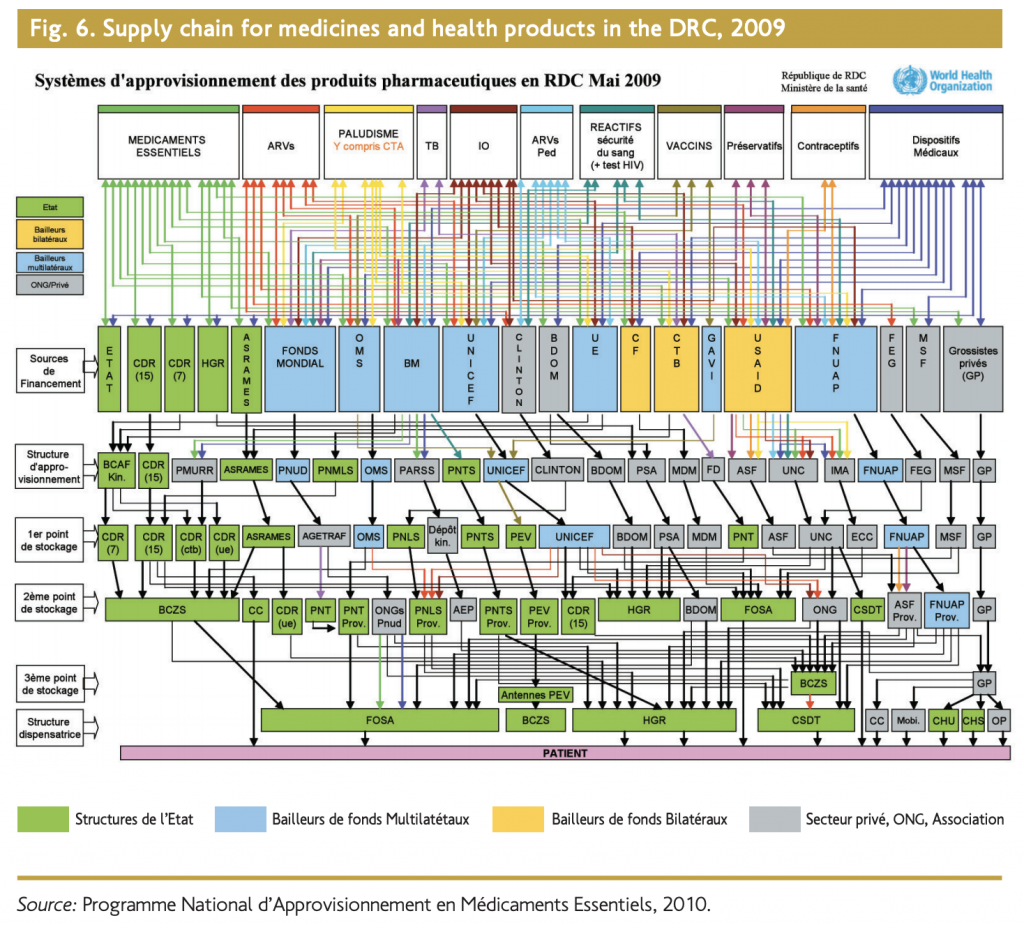 The missing link. Closing the gap in supply chain management
The result? A digital solution that brings health and logistics data into a single, manageable framework. As our work in the DRC demonstrates, Bluesquare is developing the tools governments and global health actors need to take control of their supply chain and:
Integrate health and logistics data to create an accurate, real-time view of the supply chain ecosystem.
Identify trends and build a supply chain system that responds to population needs.
Understand, calculate and track average monthly consumption rates.
Adjust systems to meet seasonal trends and peak demand.
Track inventory and validate checks to ensure proper usage and prevent corruption.
Forecast and plan to make sure that drugs and supplies are available 24/7.
With our support, users have everything they need to integrate, digitise, track, check, forecast and replenish essential drugs and supplies. For it is only by embracing new solutions in data technology that we can close the gap in supply chain management and move closer to a future that delivers true health for all.